October 2, 2013
Finally, an answer to the age old question:
How many park employees does it take to hang a "closed" sign?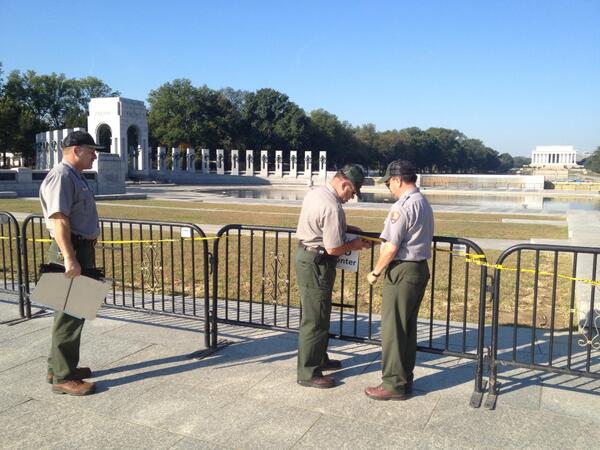 It is time we stop dancing around what is happening:  Obama is at war with the American way of life.
There is no earthly reason to shut down open air monuments, or deny WWII vets access to their memorial, save a desire to take out your petulance on the American people, to show your power, and to instill a sense of dread into those who fear getting on the wrong side of a federal government grown far too powerful.
As Neal Boortz notes (perhaps taking his cue from our own Squid), "It takes 90-year-old WWII vets to stand up to our Dear Ruler. The rest of us should be embarrassed and ashamed."  Every inside the Beltway pundit or pol clamoring for capitulation should have this tattooed on his or her neck.
Obama, I'll say again to an increasingly dwindling readership, was never a "good man."  He was always a Marxist ideologue bent on fundamental transformation.  But, to be fair, what we may not have known — even those of us who saw him for what he was ideologically and politically — is just how meanspirited and cold a man he was.
I hope the optics of his latest tantrum disabuses remaining worshippers of the notion that he has the best interests at heart of America as founded.