May 20, 2009
Google Celebrates "Missing Link" [Dan Collins]
No, they didn't bury news of Democrat misdoings, this time, but instead are hyping the discovery of a potentially important ancient lemur fossil: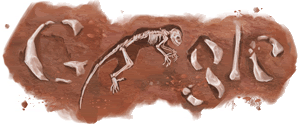 After all, that's much more important than honoring our vets or celebrating American independence.
In the latest news, paleontologists examining the contents of the stomach have discovered material that they believe might be Charles Johnson's spooge. Tests are ongoing.
Frank J.: Ontogeny recapitulates Christianity, just to piss Charles off
UPDATE: Oh, looky. Wolly doesn't get the wingnut logic. He suggests that you might need to take the "advance course." Which is how you get the "advance degree."