February 25, 2012
Obama World Apology Tour – Year 3.1 [Darleen Click]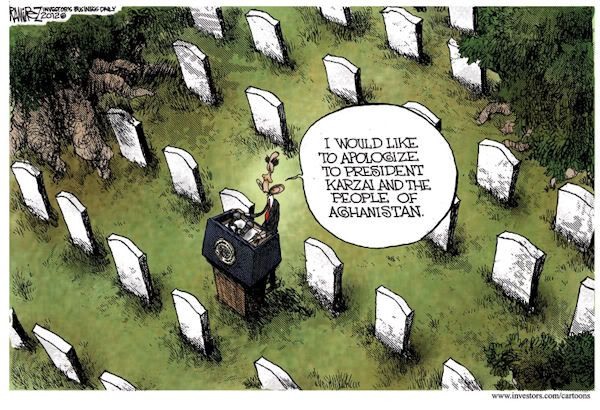 Meanwhile, The Religion of Peace continues to riot over the Korans-used-as-terrorist-communications-media burning.

The unnamed colonel and major were reportedly shot in the head by an Afghan – thought to be a police officer – with the security clearance necessary to access their secure area the heart of the Afghan government.

The killing is likely retaliation for American troops burning copies of the Koran – as protests over the controversial actions enter their fifth day. […]

Protests today also broke out in Pakistan as Muslim marched in support of the demonstrations in Afghanistan over the burning of the Koran.
Americans aren't the only target.

A furious mob has desecrated dozens of Commonwealth War Graves in a Libyan cemetery amid continuing fury in the Middle East over the burning of the Koran by U.S. soldiers.

Headstones commemorating British and Allied servicemen, killed during World War II campaigns in the Western Desert, lay smashed and strewn across Benghazi Military Cemetery. […]

There were immediate fears the Taliban and other insurgent groups would try to exploit the claims, using it as a rallying call against US, British and fellow Coalition forces.

The protests come as the FBI announced it has removed hundreds of pages of training documents that painted inaccurate or stereotypical views of Islam.

The counter-terrorism training materials referred to the Prophet Muhammad, the founder of Islam, as a cult leader and included graphs that implied devout Muslims got more violent throughout history, while Jews and Christians became less violent.
Heh.
Sarah Palin wonders where is Karzai's apology and Newt brings it home …

"There seems to be nothing that radical Islamists can do to get Barack Obama's attention in a negative way and he is consistently apologizing to people who do not deserve the apology of the president of the United States period," Gingrich said.

"And, candidly, if Hamid Karzai, the president of Afghanistan, doesn't feel like apologizing then we should say good bye and good luck, we don't need to be here risking our lives and wasting our money on somebody who doesn't care."
Worthless Jim Carney whines

"[The apology] is wholly appropriate, given the sensitivities to this issue, the understandable sensitivities,"
Funny, how Obama's definition of appropriateness of behavior based on religious sensitivities doesn't include Christians.
Tags:
afghan
,
apology
,
islamists
,
karzai
,
koran
,
obama