May 22, 2012
The not-so-casual bigotry of the Left [Darleen Click]
Sometimes, I cannot avoid certain sections of the Los Angeles Slimes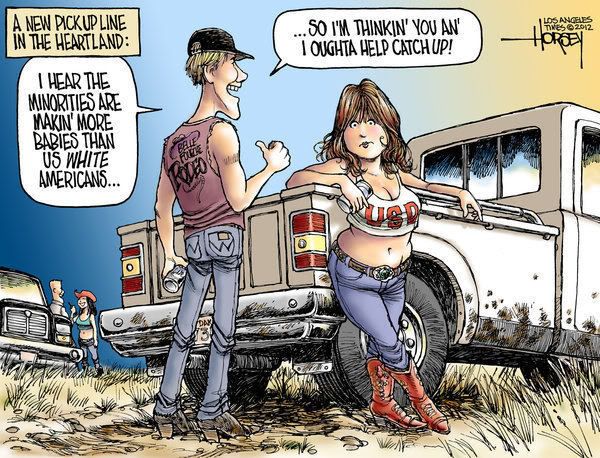 David Horsey replaced the token conservative, Andrew Malcolm, on LAT's "Top of the Ticket" column and has been spewing anti-conservative hate and mockery ever since. He eagerly seized on the Minority babies story, something that Left-liberals have gleefully made a story over their own perceptions of how conservatives will react.

Pudgy, pink Gerber babies are no longer the typical child being born in the United States. According to the U.S. Census Bureau, moms who are Latino, Asian, African American or mixed race are now giving birth to just over 50% of American babies. […]

When they grow up, all these little brown babies will be working hard to pay for the Medicare and Social Security benefits of a whole lot of old white people like me. […]

It is inevitable that America will change. That bothers some folks, I know, but it can be a dramatic change for the better if only we pull our heads out of the sand, stop clinging to outmoded definitions of "real Americans" and do the necessary work to bring all these new babies into the great American family.
David, of course, purposefully ignores that the majority all those "brown" babies — Hispanics/Latinos — self-identify as "white".
"Real" Americans have little to do with the racial balkanization lionized by Left-liberals, but with American principles and values. If those babies are raised American then they will be American in the most important, and only sense, of what our Founders put together.
But hey, broad-brushing the American heartland as peopled with stoopid rednecks and hicks — people who still actually believe in liberty and charity — then one can mock the values they hold by association.
Tags:
bigotry
,
david horsey
,
los angeles times
,
minority babies
,
rednecks
,
us census