February 25, 2009
The Morning After Report [Dan Collins]
Via Don Surber, an AP fact-checking of Obama's speech which you should read in full, because it's actually pretty good.
At the same time, VDH makes a few observations that I've been hammering on, and that more people ought to start hammering on, as well:
3) Can we ask politicians to give back monies received from now failed like entities like Countrywide? It is said that those who cashed out with Bernie Madoff, may, if the closing out was done recently, have to return their cash. Why then would not a Chris Dodd or Barney Frank not have to do the same thing—since at the time they were given the contributions, their benefactors were obviously insolvent, and had hid that fact from their share-holders? (I don't know whether the now broke Tony Rezko would qualify under such a proposed statute, but he seemed to have little real capital when he blessed the Obamas, through a subsidized low price, with that strip of land adjoining their yard. His debtors, at any rate, would not have liked him to be so free with their money.)

4). Politicians have become like the CEOs they caricature. The only difference is that their poorly-run corporations cannot go broke. How odd to see a spendthrift Bank of America or Citibank mogul chewed up by a profligate Senator who is responsible not for $100 billion in subprime toxic assets, but for $13 trillion in run up deficits. Strange it is to see Nancy Pelosi rail about private jets for corporations that indirectetly get US subsidies when she flies on one through direct government subsidies. The truth is that now it is far better to be Speaker of the House, Senate Majority Leader, or House whip making a paltry $200,000 or so than to be the head of Goldman-Sachs or GM. The jets are better, the traffic-interrupting motorcades are quicker, the perks, free food, gas, car, or limo are as good or superior, and the deference and status outdo those in the corporate world. A cabinet officer or Congressional leader gets all the slush of the CEOs without the risk or liability of going broke. There is no broke—ever. You come into office, spend, take the perks, and go out leaving a greater debt to your successor who likewise prints more money. And if you are a Ted Stevens, Charlie Rangel, Chris Dodd or John Murtha, instead of obscene stock options, your freebies aren't even taxed—or known.
These whores, who have sold us out for a song, stood and cheered and cheered as The One denounced the greed-riddled entities that have brought us to this pass.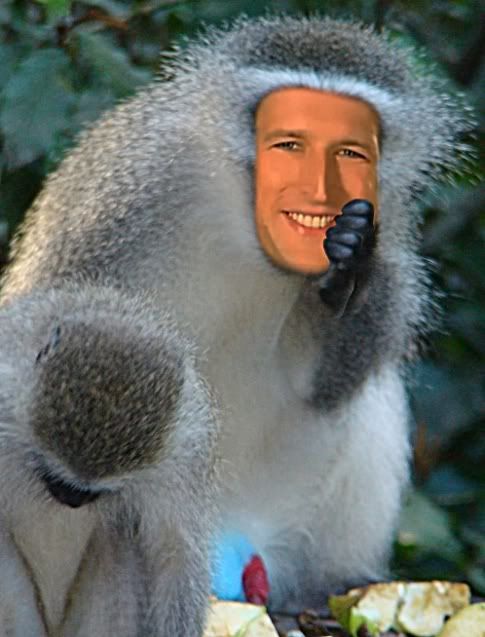 Meanwhile, John Sanders of the Bright Blue Scrotum can expect a call from Shauna Daly's office.
(a serr8d joint)
I'm not willing to let go of Chimpcartoongate, so if any of you knows someone with drawing chops, who can work up a black man and a white man in front of a primate exhibit at a zoo, with the white one pointing at the black one, yelling, "Stop mocking him!" at the ape, I'd appreciate the help.